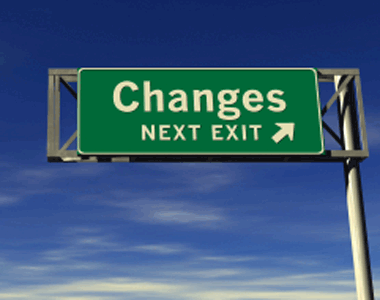 We are always giving people a nudge to enhance their diet and improve their health and fitness, but we never expect you to be perfect from day one. You have to make small changes day by day, but make sure they are permanent changes. 
Change has always been a necessary aspect of life and work.  People react, respond and adjust to change in a sequence of six predictable stages. It is likely that you will have to cope with a variety of changes in the near future. Your success and fulfillment – your emotional, mental, spiritual and physical well-being – depend on how well you adapt to change.
Which Stage are you in?
Stage 1 – Loss to Safety
In Stage 1 you admit to yourself that regardless of whether or not you perceive the change to be good or 'bad" there will be a sense of loss of what "was."  "I don't want to change my diet"…You probably don't see a need to improve your diet or health and fitness, or you haven't established important reasons to change what you are doing. Consider how your weight and health will suffer if you don't make changes now.
Stage 2 – Doubt to Reality
In this stage, you doubt the facts, doubt your doubts and struggle to find information about the change that you believe is valid. Resentment, skepticism and blame cloud your thinking. "I won't be able to make these changes.  I am never going to be healthy and fit"…  List the benefits of a better diet and doing more exercise and commit to a start date.  Don't put off making plans for positive changes.
Stage 3 – Discomfort to Motivation
You will recognize Stage 3 by the discomfort it brings. The change and all it means has now become clear and starts to settle in. Frustration and lethargy rule until possibility takes over.  "I am looking forward to going to the beach at Christmas and feeling confident"….  Develop a plan of attack and set a goal for yourself to work towards.
The Danger Zone
The Danger Zone represents the pivotal place where you make the choice either to move on to Stage 4 and discover the possibilities the change has presented or to choose fear and return to Stage 1…. "I'm thinking about changing my diet"… You know why you want to make changes but you haven't started yet.
Stage 4 – Discovery to Perspective
Stage 4 represents the "light at the end of the tunnel." Perspective, anticipation, and a willingness to make decisions give a new sense of control and hope. You are optimistic about a good outcome because you have choices. "I've started to change my diet"… Well done! Now you need to make healthier, nutrient-rich food choices. Make specific plans for how you'll eat well at home, work or at social events.
Stage 5 – Understanding
In Stage 5, you understand the change and are more confident, think pragmatically, and your behaviour is much more productive. Good thing. "I enjoy healthy foods. They taste better and it's becoming a habit"… Your taste buds are now on your side and your new healthy habits are working for you most of the time. Fatty or sugary foods are now a turn-off.
Stage 6 – Integration
By this time, you have regained your ability and willingness to be flexible. You have insight into the ramifications, consequences and rewards of the change — past, present, and future. "Healthy eating is now automatic for me and part of my new lifestyle"… You are more active and choose healthy foods without feeling deprived and it doesn't feel like a diet. You wonder why you didn't make the change earlier!
Moving forward through the six stages is normal and can take time. It's normal to experience slip ups and have days when you feel you've gone back a stage. 
If you're too serious about counting calories and you find it hard to enjoy food, go easy on yourself.  Stress elevates your cortisol hormone, which triggers cravings, retains abdominal body fat and makes matters worse. It's time to chill out about your diet. It's helpful to reassess your habits and goals to see whether they are working for you or against you.  Which is it? 
Come see us if you want an individualised nutritional plan, to talk about your health and fitness and start training, or for some helpful tips to reach your goals.  You CAN do this! We'll be right here if you need us.  We will help program you against failure. 
(Redeveloped from the CCMC 2009) 
"Permanence, perseverance and persistence in spite of all obstacles, discouragement, and impossibilities: It is this, that in all things distinguishes the strong soul from the weak."  –  Thomas Carlyle